SPOILERS AHEAD
Random indeed are the ways of
Shivaay
, both the film and the character. The hero knows no limits. He leaps off snow-capped cliffs and slithers down steep mountains with the ease of a boy swatting flies.
Likewise the film. It stops at nothing. One brief exchange sums up
Shivaay
perfectly. The Bulgarian heroine asks the titular protagonist: "Shivaay with a y. Why." Exactly our question.
The hero's reply is curt and casual: "Why not?" True.
Shivaay
dangles between many such whys and why nots.
In the second half, an Indian embassy girl decides to throw her lot behind the hero when the latter finds himself on the wrong side of the Bulgarian law after his eight-year-old daughter is kidnapped by the Russian mafia.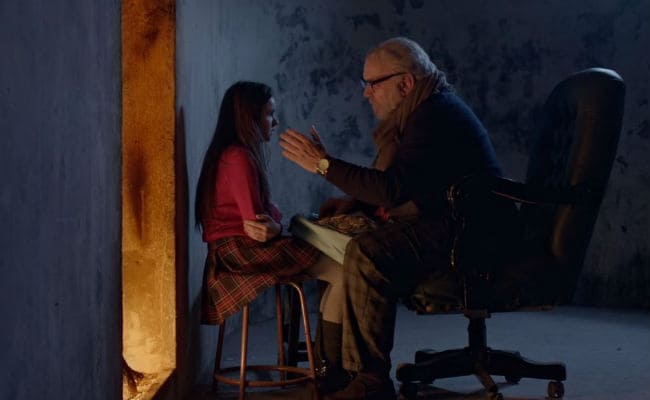 Her garrulous boss, the ambassador to Sofia, reasons with the greenhorn: Why are you doing this? Life is never like a 30-page comic book.
The girl, whose mind is firmly made up, retorts with all the wisdom at her command: "Comics
ki duniya ke baahar superheroes bahut kam milte hain
, Sir." So, there.
The man called Shivaay is a superhero all right, and he is trapped in a comic-strip world of make-believe where narrative logic is as rarefied as the Himalayan air he breathes.
In fact, with Ajay Devgn not only acting but also directing,
Shivaay
is
Singham
(minus the
khaki
uniform) transported to Sofia and the Balkan mountains.
The hero is an intrepid, unstoppable, super-skilled Himalayan mountaineer and trek guide. No calamity, no avalanche, no snowstorm, no adversary can deflect him from his path.

And when push comes to shove, he turns into a full-blown
Rambo
-esque fighter who sends the Russian mafia and corrupt elements in the Bulgarian police scurrying for cover.
The
Shivaay
screenplay is predicated on a weak, arbitrary premise. The
hero falls for a Bulgarian girl Olga
(Polish actress Erika Kaar). But he is in no mood to accompany her to her homeland. "Shivaay Himalaya
ke siva nahin jee sakta
," he tells her rather airily.
But the brief encounter leaves Olga pregnant. Shivaay seizes upon that turn of events and insists that he now wants to have something that he has never had - a family.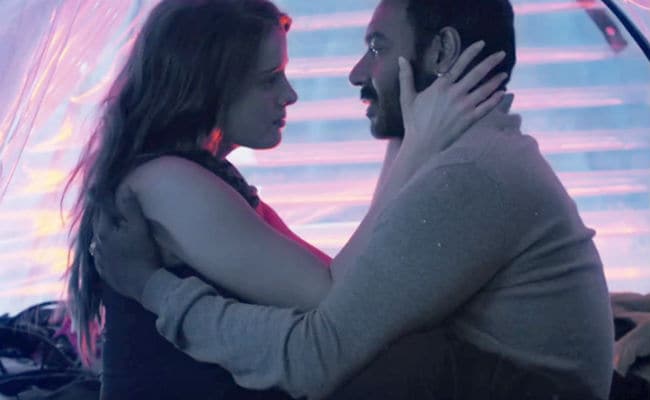 So he pleads with the visitor to stay on until the birth of the baby. She does, paving the way for the crisis that drives the cool climber over the edge in the second half of the choppy 172-minute film.
Plenty of blood is spilled. The body count is high. And there are car chases galore through the streets of Sofia and the mountain highways of Bulgaria.
But
the father-daughter relationship
, the focal point of the film, does not rise to any great heights. It fails to evoke genuine emotion.
In fact, none of the characters develop into rounded, believable people. Their motivations are hazy,
their actions arbitrary
.
In the end,
Shivaay
, for all its flashy action scenes, is as perfunctory as the mechanical lip-lock between the male lead and the Polish actress impersonating a Bulgarian who spouts fully rounded Hindi sentences.
If their passion hadn't been triggered in an improbable setting - a transparent tent hanging precariously in a crevice between two mountain ledges - it would have counted as just another screen kiss.
But here we are before "an extraordinary man in extraordinary circumstances". So expect far-out miracles.
The film (screenplay and dialogue: Sandeep Shrivastava) takes the concept of falling in love rather too literally. When a life-threatening snow slip strikes a band of high-altitude trekkers, Shivaay and Olga plunge off the face off an icy mountain - and live to tell the tale.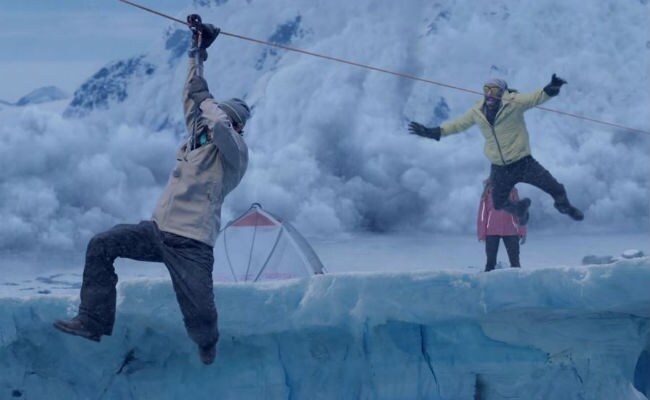 But that is only one of many falls that the film suffers. The brave, upright mountaineer, on learning that his one-stand stand has impregnated the pretty damsel, makes his bizarrely unreasonable demand.
The woman, on her part, asserts that she wants to live her own life and refuses to hitch herself to Shivaay for good.
So, the man is left holding the baby. Eight years later, his spirited deaf-mute daughter, Gaura (British child actor Abigail Eames), is the centre of his universe.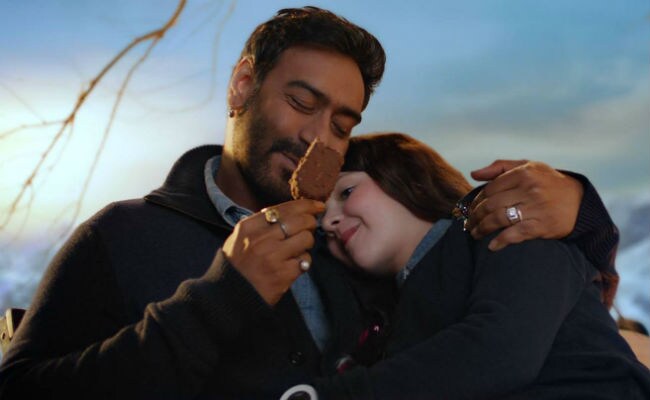 When father and daughter set out in search of the absent mother and land in Sofia, they encounter big trouble at every turn.
They run into a gang of child traffickers in the business of selling kidnapped girls and boys to organ smugglers and flesh traders.
The audience is informed that the Russian mafia is a ruthless bunch. So well-oiled is their operation that 72 hours is all that they need to bundle their captives into a van and drive them across the Bulgaria-Romania border.
So our hero has very little time to play with. With some help from the Indian envoy in Sofia (Saurabh Shukla), "a Bihari from Motihari", and this
spunky embassy rookie Anushka
(Sayyeshaa Saigal), who develops a soft corner for the wronged father, he goes after the bad guys.
The baddies are real bad and they answer to names like Nikolai, Ustinov and Ivanovic. But no matter how weighty their monikers, they are obviously no match for Shivaay.
It takes the film nearly three hours to establish that obvious fact. By which time you are too tired to even think.
The
actors in the supporting cast
- Abigail, Erika, Sayyeshaa, and even Vir Das playing an ethical hacker whose services are enlisted by Shivaay - do their bit to be noticed, but no more.
Shivaay
is obviously
Ajay Devgn's film all the way
- he is in virtually every frame. His body tattooed with the lord's locks, serpent and trident, he is Shiva's own man on earth.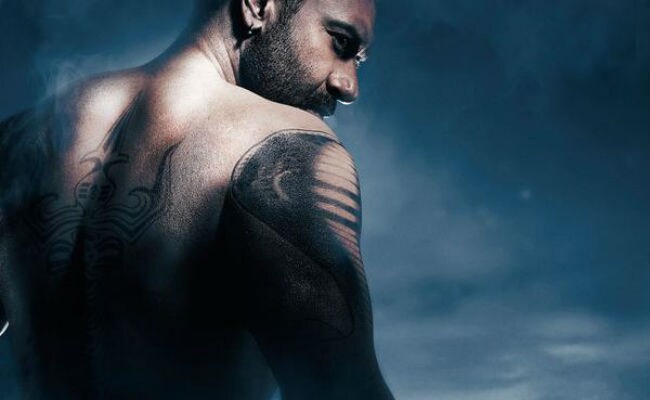 He smokes a chillum, sports earrings and looks as if he is always on an acid trip. His fans will have absolutely no reason to feel shortchanged. But the film doesn't propel itself anywhere close to ending on a high.
In a philosophical mood, Shivaay advises Olga that a relationship shouldn't be measured by the number of days it lasts, but by the number of breaths.
Climb down to a more mundane plane and try judging Shivaay by the number of yawns and yelps of disbelief it induces. You will lose count pretty quick.
Visually, there is much going for this film, especially with cinematographer Aseem Bajaj making the most of the striking Balkan canvas and painting breathtakingly pretty pictures on it.
But
Shivaay is a misfire of Himalayan proportions
.
Watch Trailer: