SPOLIERS AHEAD
The most obvious gripe regarding
Aparna Sen's Sonata
, an English-language chamber drama that unfolds in a single living room in the span of a few hours, would relate to its cinematic sparseness. Adapted from the play of the same title by Mahesh Elkunchwar, the film is never far away from tripping on its cramped stagey-ness. But there is so much to like in
Sonata
that it isn't difficult at all to ignore some of the film's failings and focus on its brighter sides. Nothing is brighter in this film than the presence of Shabana Azmi, who uses the limited physical space of the set to produce an air of free-spirited abandonment that plays off perfectly well against strait-lacedness of the professorial character played by the director.
Thanks to the delightful vitality that Shabana injects into the exchanges between her and a far less demonstrative Aparna Sen, the film is elevated above the ordinary, if only on rare occasions.
Sonata
isn't run-of-the-mill fare, hinging as it does on three middle-aged spinsters who have lived their lives on their own terms, give or take a few missteps here or there. Two of these ladies - bubbly banker Dolon Sen (Shabana) and the prim and propah writer and academic Aruna Chaturvedi (Aparna) - have shared an apartment somewhere in Mumbai for many years and are completely at ease with each other.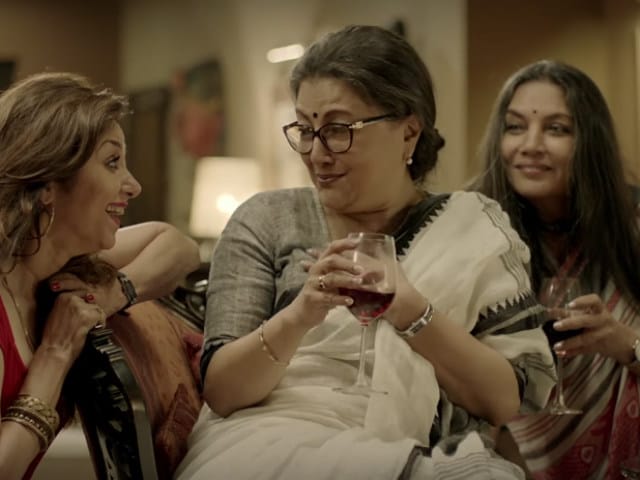 They duo bickers and banters like the college mates that they once were. And they - and here lack of logic might be evoked - each still has have enough secrets to take the other by surprise. That apart, unarticulated romantic tensions between them are alluded to, but Sen does not go the whole hog with the dramatic possibility inherent in that layer of Dolon and Aruna's relationship.
While Dolon is all for living it up, Aruna is given to worrying about more immediate matters - for instance, the approaching deadline for a chapter she is writing and is running late on. As they await the arrival of another college mate, Subhadra Parekh (Lillete Dubey), a hotshot journalist who isn't so great at handling her boyfriends, and a friend who has undergone a sex reassignment surgery, Dolon and Aruna, as they sip on their wine glasses, discuss the pros and cons of the choices they have made in life as they sip on wine.
Conversations are started, tantalizingly pursued and then, without warning, left dangling as the duo fly off in a completely different direction as another thought hits them. When Subhadra, or Subi, joins them nearly halfway into the film, their exchanges becomes even more wispy and whimsical.
The revelations at the end of the film in which elements of the past serve to illuminate the details of the present - and probably the intimation of future as well - are not quite as surprising. The world outside catches up with the trio but they are too far down the freedom road to be thrown off their perches.
One is barely aware of the camera in
Sonata
, which isn't a bad thing at all. The only time that it makes its presence felt is when the characters move towards it or away from it. In opting to keep the lens as unobtrusive as possible, the director heightens the film's connect with theatre.
Watch the trailer here:
Shabana, who has been directed by Aparna several times in the past, strikes a nice rhythm and rapport with her principal co-actress and livens up the proceedings. Aparna, in turn, refrains from breaking out of her shell and that is in keeping with the demands of her role. Lillete has far less screen time, but provides the shots of energy the film needs to stay on its feet.
Sonata
is a small-scale drama that dares to stay within its chosen confines and stick unwaveringly to its creative strategy not to seek sweeping revelatory moments to make up for the low-key passages that its core is composed of.
Sonata
is definitely not in the league of Richard Linklater's
Tape
or Louis Malle's
My Dinner with Andre
. But in the context of Indian cinema, it is a daring break from the norm. When did we last see three middle-aged women talk incessantly and solely about themselves and their unfulfilled desires and unresolved issues, and not about their roles as wives, mothers, daughters or sisters-in-law? Hard to recall. One thing that this film isn't is old whine in a new bottle.
For that alone,
Sonata
is bigger than it seems. It is a film about female bonding that goes well beyond the mere trappings of feminism. A perfect treat for those who see more value in little insights and sleights than in big-bang drama.