This is the portrait of a former Disney princess. 20-year-old Miley Cyrus has long laid to rest the ghost of Hannah Montana, her screen alter ego from ages 12 to 17, and doesn't care who knows it. Miley, who has since forged a successful musical career, took to the red carpet and stage at the MTV Video Music Awards on August 25 at Barclays Center in Brooklyn in typically risque Miley-style.
Miley's performance, which included stripping down to her underwear, sticking her tongue out and writhing against singer Robin Thicke with who she was singing a duet, has been widely slated online.
The New York Times
was scathing: this was a banner year for clumsy white appropriation of black culture - the shambolic, trickster-esque performance by Ms. Cyrus, to whom no one has apparently said "no" for the last six months or so, which included plenty of lewdness and a molestation of Robin Thicke.
Rolling Stone
said: But not all of the night's performances were winners. Miley Cyrus and Robin Thicke did a haphazard (and at times cringe-worthy) mash-up of "We Can't Stop" and "Blurred Lines" that featured giant dancing teddy bears and Cyrus twerking and groping Thicke.
The Hollywood Reporter
didn't mince its words: What made it so cringe-worthy was its crassness -- from the song itself (catchy but mind-numbingly silly and about five minutes away from sounding dated) to Cyrus' choice of wardrobe (a stoned-out leotard) and stage props (big-butted teddy bears) reminiscent of a bad acid trip. Instead of singing along to "We Can't Stop," it seemed more fitting for the horrified masses to scream, please, stop!
CNN
was slightly more restrained with: Cyrus took over the stage with gigantic, dancing bears and more twerking than viewers at home probably knew what to do with.
Time
said, caustically: Cyrus twerked and gyrated, stripped and swayed. She sang, too.
This is how the evening panned out for Miley. She began on a relatively demure note on the red carpet, dressed in a vintage two-piece ensemble by Dolce & Gabbana. If her skin-tight and bejewelled crop top and leggings stood out among high-octane gowns such as the navy Herve Leger on Taylor Swift and the uncharacteristically subdued black Prabal Gurung on the usually outrageous Lady Gaga, it was an indication of what was to come.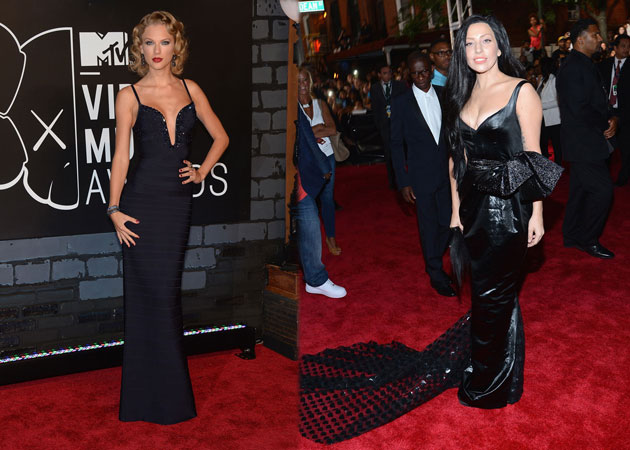 Miley began her performance with a rendition of her latest hit
We Can't Stop
clad in a teddy bear-inspired leotard.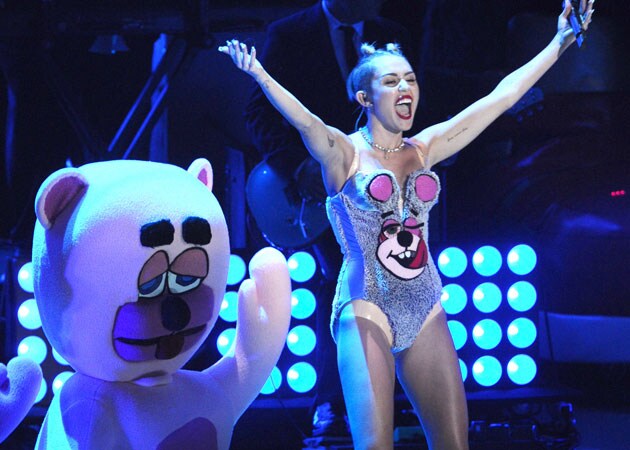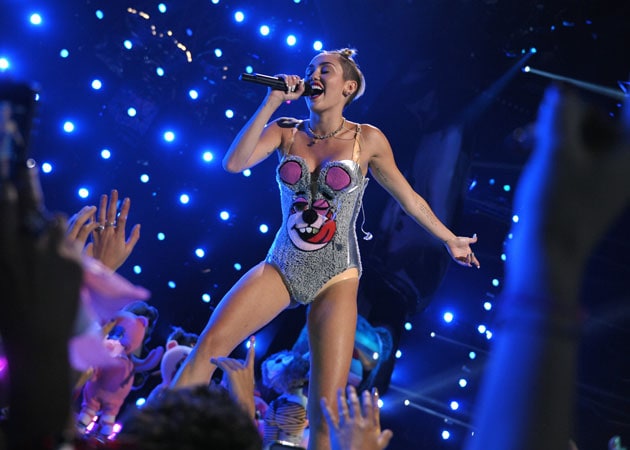 There was more in store. She then changed into a PVC bikini to sing with fellow popstar Robin Thicke, performing a version of his song Blurred Lines while showing off some increasingly X-rated moves.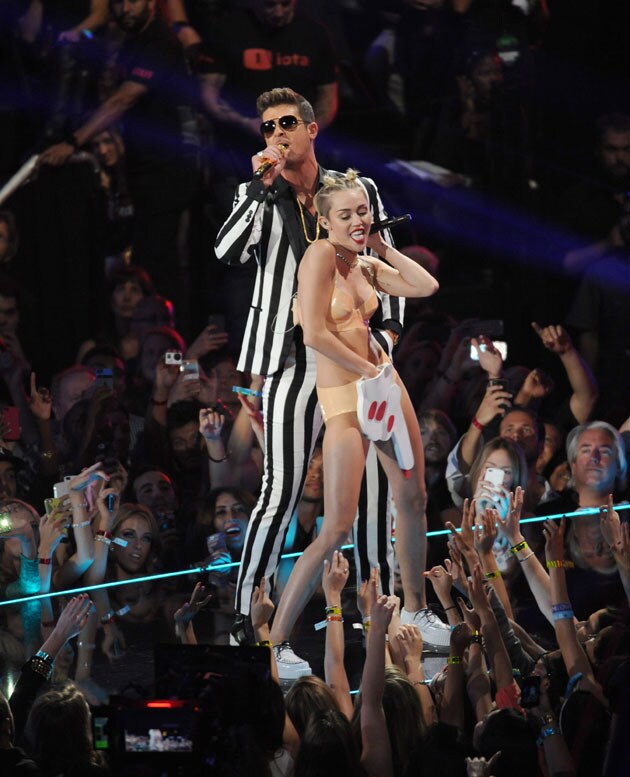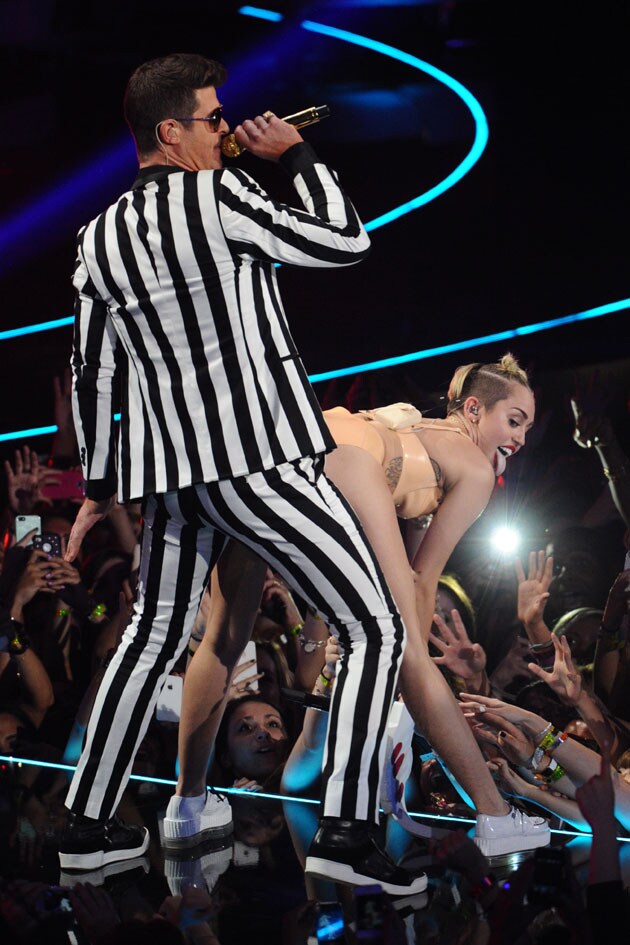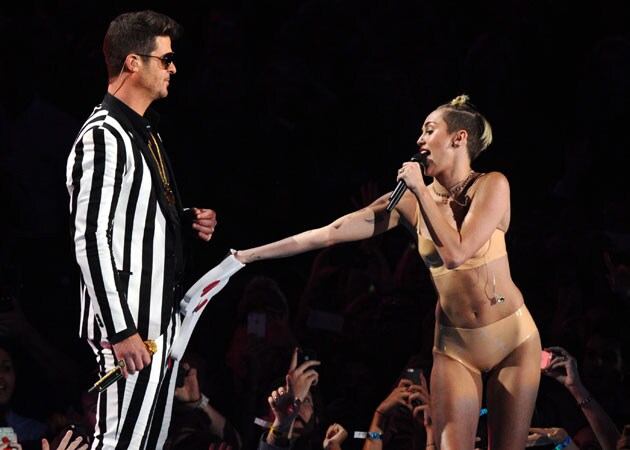 Not everyone in the audience was impressed, leaving many celebrity guests, including Will, Jaden and Willow Smith, looking visibly uncomfortable.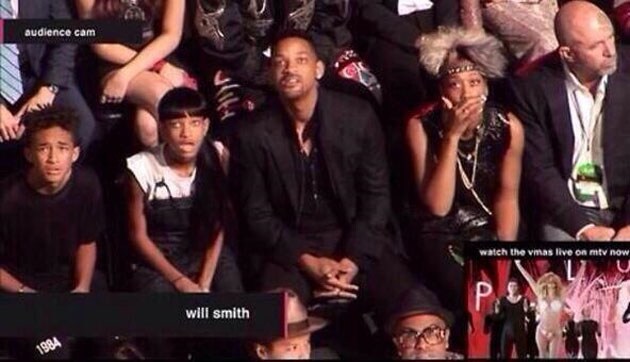 Others took to Twitter, like Mariah Carey's husband Nick Cannon who tweeted: Remind me never to let my kids into showbiz.. Thanks
Actress Jaime King tweeted: A certain mortification swells over me when I watch particular performers.
Modern Family
actor Jesse Tyler Ferguson wrote: I just watched the #VMAs & I know I'm going to have nightmares about Miley Cyrus playing a tiny harp where her "red light area" is.
Meanwhile, general opinion online was divided with some tweeters expressing the opinion that Miley had, for once, gone too far:
Anthony Diu: Miley Cyrus, we're not judging you. We're just unhappy to see the girl who was part of our childhood, is now part of our disappointment.
Norman Buckley: I think Miley Cyrus has ruined MY childhood. I can't go back.
Dan Peck: Tonight Miley Cyrus helped a lot of twentysomethings realize that they are no longer a part of youth culture
MichiganGirl: Don't get me wrong I love @MileyCyrus but tonight was bad...
While other commenters said they loved her performance:
Samantha Czuba: I don't know what exactly just happened, but to be honest I kind of loved it. #LMFAO #MileyCyrus #RobinThicke #VMAs
Andrea Russett: i think miley out weirded lady gaga this VMAs and i give her big props because that is not easy
Somewhere, in the graveyard of American sitcoms, Hannah Montana is NOT twerking.