As the release date of
Baahubali: The Conclusion
draws nearer, the interest of audiences is peaking. The makers have gone all out to give the film a touch of unsurpassed grandeur and make the characters come alive on screen. Apart from set design, VFX and CG, it's the look of the characters that received great attention. We learnt that director S S Rajamouli's wife Rama Rajamouli and costume designer Prashanti Tipirneni, have jointly designed the costume and jewellery for both parts of
Baahubali
. In a conversation with the duo, we discover the extensive attention to detail they undertook to execute this mammoth task.
The first thing the duo needed to do, in order to decide their look, was to understand the background of the characters. Rama Rajamouli says, "
Baahubali
is a fantasy film and the kingdom doesn't have an actual location in history. We didn't have any period reference to go on. So director Rajamouli set up joint team meetings with all departments from camera and art direction to Computer Graphics and VFX. We all sat together and would try to imagine what the two kingdoms of Mahishmathi and Kunthala Rajyam (Devasena's kingdom) were like. So what we did was,
establish the back stories of the characters
. We threw around questions pertaining to the climate, natural resources they had access to, how they lived, what they wore, what crops they grew, what they ate and what professions they probably practiced. The answers we developed helped us to slowly make the kingdoms come alive. For instance, only when we knew what crops they grew there that we could make them materials relevant to their environment so that it would look relevant on screen."
Rama discloses another influencing factor that greatly helped in stirring their imagination, "While designing their clothes and jewellery, we were also inspired a great deal with the looks of historical and mythological characters in
Amar Chitra Katha
comics and the
Chandamama
stories."
To add to the authenticity of the fantasy period
, they used coarse, hand-woven cotton fabrics for the citizens and raw silk fabrics for the royalty. "We avoided prints and mill manufactured fabrics completely. We ordered thousands of bales of fabrics in off-white colour, so that we could dye it later in the two different colours worn by soldiers of the two kingdoms. We were designing not just for the lead characters but also the thousands of junior artists comprising the armies and citizens."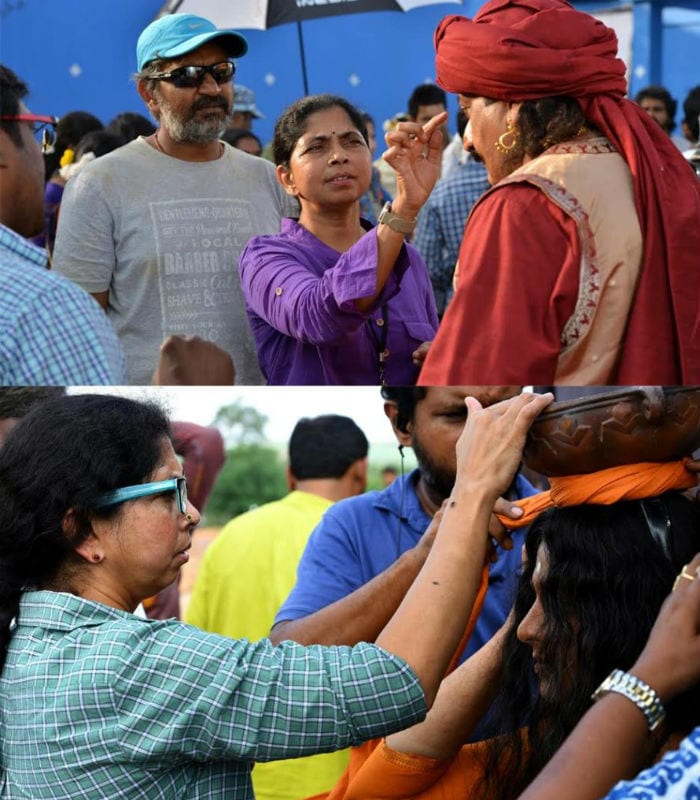 Talking about mammoth task at hand, she recalls, "Several lakh metres of material were used in the process over five years. That's because, a lot of the clothes would get damaged during the shoot of war scenes etc. So we had to stitch afresh. So we would order fabrics and stock well in advance," says Rama. Interestingly enough, entire villages like Narainpet and Mangalgiri were involved in just weaving the entirely handwoven fabric for
Baahubali
, for almost a whole year as the demand kept going up, due to wear and tear during shoot.
Subtle Colours For Prabhas, Chunky Gold For Rana
The duo divided the work amongst themselves for smoother execution. Prashanti says, "I looked into the designs of the costumes of the people of Devasena's Kunthala Rajyam, while Rama handled Mahishmathi. So while the Mahishmathi kingdom had bold, solid colours like gold, maroons and black, the Kunthala people had more of double shaded colours, which you will see in Part 2 of the film. The colours of clothes and choice of jewellery reflected the personality of the characters. So while Prabhas was given subtle colours and lesser of gold,
Rana's costumes were louder in colour
with more of chunky gold jewellery." The duo were aided by a pre-visualisation department that would make sketches of the various looks, based on whatever ideas were given to them. "But we couldn't have done any of it without our chief costumer K Krishna," says Rama.
Apart from fabrics, it was the entire look, including armour, headgear, shin-guard, shoes and jewellery for the entire kingdom and royalty that the duo had to design and execute, sometimes working along with the art department. The duo seems to have been running a mini corporate house. They had around 200 masters, who cut the cloth according to the designs given and 300 tailors who then would stitch the material. Special leather craftsmen constructed the shin-guards, arm bands, headgear and footwear in a way that it looked like metal on screen. Says Rama, "The armour was actually made of a gunny like material and then painted to look like armour."
Talking about the practical difficulties of such a mammoth task, she elaborates, "Once, we discovered two days prior to the shoot, that we had 200 shoes of a size that didn't fit anyone. We didn't have enough new leather material nor time to make new shoes. So we had to alter them somehow. The craftsmen worked night and day and somehow altered the shoe size and got them ready for the shoot. There were many such moments during the past five years. Our day would begin at 4am and end at 9pm. For five years, we lived in Mahishmathi".
(Except for the headline, this story has not been edited by NDTV staff and is published from a syndicated feed.)