Guess who was Rajinikanth's first ever fan? It was a 10-year-old girl in 1975, soon after his debut in Apoorva Raagangal. When Rajinikanth rushed to a theatre to watch the movie, nobody believed he had acted in it. So he stood in the queue for a ticket. After the screening he waited, smoking, but no one recognised him. Suddenly the 10-year-old girl shouted, "Aren't you the man who came at the end?" Rajinikanth was thrilled and got her a packet of popcorn. This was one of the many snippets about superstar Rajinikanth shared by well-known actor, speaker and film historian Mohan V Raman, as part of the Madras Week celebrations in Chennai. He had divided Rajini's career into eight parts and, for the 150 or so fans present, it was a treat.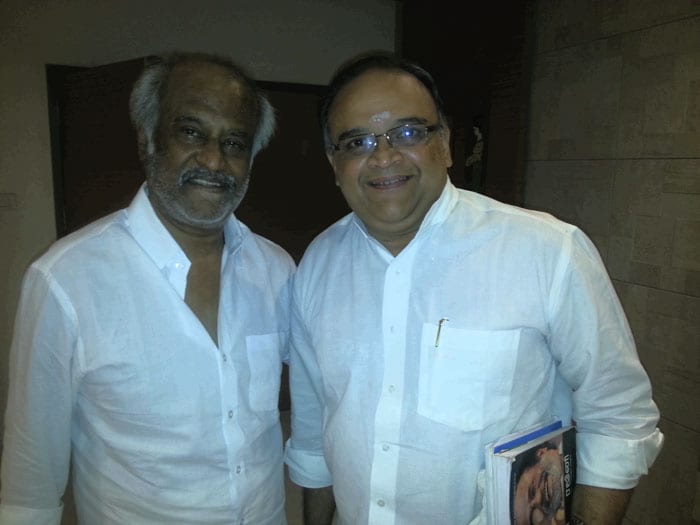 It was Rajini's impressive question to director K Balachander, who visited the Film Institute in Chennai, that changed his life and brought him to films. Rajinikanth asked the filmmaker "Apart from acting what do you expect from an actor?" K Balachander shot back "Don't act outside the studio" and also promised to use Rajini after his course, a promise he kept.
Guess who noticed Rajini's signature flipping of cigarette to his lips? It was not his guru Mr Balachander but a member of his team, Ameer Jha, during the filming of
Moondru Mudichu
at Yercaud. Mr Balachander wasted no time in showcasing it and overnight Rajini became popular for his style. Why did the superstar change his name from Shivaji Rao to Rajinikanth? Mr Balachander, who was also present at the programme explained, "Already we had popular actor Sivaji Ganesan and it would be difficult if there's another actor by the same name".
As a child, Rajinikanth was a top scorer while he was in a vernacular medium school in Karnataka. But his performance dropped when he was shifted to an English medium school. Mr Mohan says "Rajini in his own words has said he was shifted to the back row and he got last row friends who changed his life." Rajini's stint with social service at the Ramakrishna Ashram developed in him the spiritual bent.
Interestingly, it was a love for the legendary Sivaji Ganesan's movies that brought together Rajinikanth, who was a bus conductor then, and his colleague, driver Bahadur. One day, both applied for leave to watch the actor's movies and it was he who later helped Rajini go to the film school in Chennai and supported him against opposition from his family.
There were times, Mr Raman says, when Rajini almost wanted to give up acting. In 1977, Rajinikanth disappeared from the studio after he got scared of his long dialogues in
Buvana Oru KezhiviKuri
. It took some persuasion and flexibility to get him to resume acting.
Rajinikanth is the epitome of commitment, says Mr Mohan. In one scene of
Padhinaaru Vayathinilae
, heroine Sridevi had to spit on Rajini. Usually, tooth paste froth would be splashed in such situations. But Rajinikanth didn't allow that. He insisted Sridevi really spit on his face to generate a strong impact which worked well.
In 1978, producer S Dhanu gave Rajinikanth the title 'superstar' after his debut as hero in
Bairavi
.
The three hour long talk with a good mix of video clippings of Rajini's movies "was a wonderful peep into the superstar's journey over the last few decades," says Karthy, a Rajini fan.
Mohan V Raman signed off the event with actor Shah Rukh Khan's dance number as a tribute to "Thalaivaa" in his
Chennai Express
.