The biggest names in Hollywood were in top form
on Sunday in Los Angeles at the Emmys
, television's equivalent of the Oscars.
Here's a selection of 10 memorable quotes
from the 68th Emmy Awards
:
Dragons and Broncos
"If your show doesn't have a dragon or a white Bronco in it, go home right now." - Emmys host Jimmy Kimmel, joking in his opening monologue about the dominance of
Game of Thrones
and
The People vs OJ Simpson: American Crime Story
, which became reality as the night proceeded.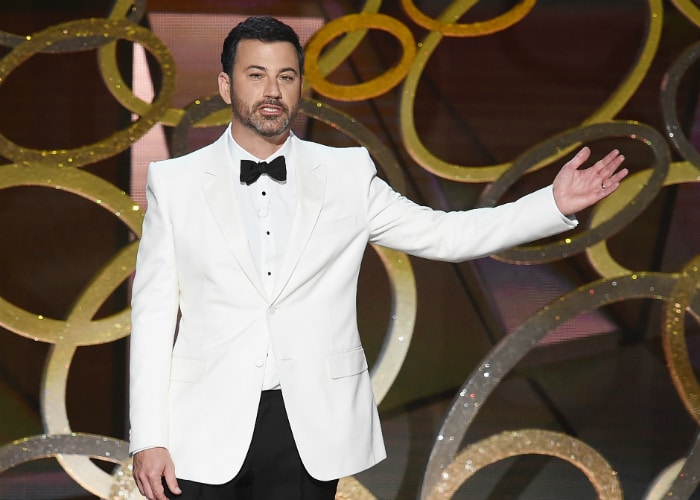 Jeb!
"If you run a positive campaign, the voters ultimately will make the right choice... Jimmy, that was a joke. Get out of the car." - One-time Republican presidential candidate Jeb Bush, appearing in a comedy sketch as a limo driver for Mr Kimmel, poked fun at his own failed campaign.
Tribute to Dad
"I would like to dedicate this to my father, who passed away on Friday. And I'm so glad that he liked
Veep
, because his opinion was the one that really mattered." - A tearful Julia Louis-Dreyfus said while accepting her fifth straight Emmy for best actress in a comedy for the HBO political satire.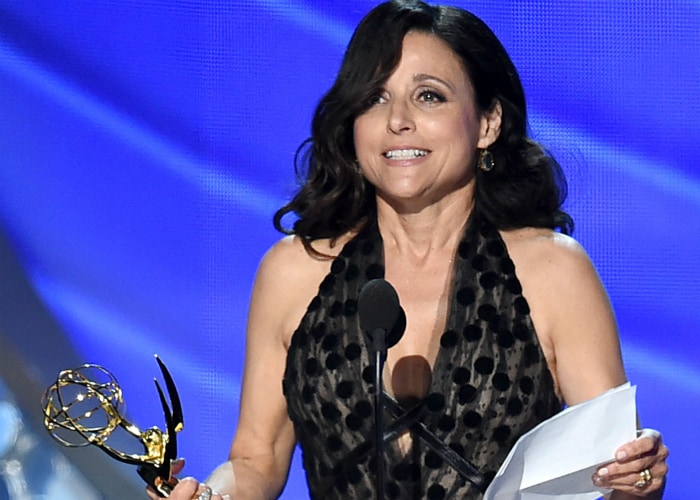 Cosby in the house?
Ladies and gentlemen, four-time Emmy award-winner, Dr Bill Cosby... Don't worry. He's not really here. I just wanted to see what you guys would do." - Mr Kimmel said sparking furrowed brows with a joke about the veteran comic, who is to go on trial in Pennsylvania next year for sexual assault.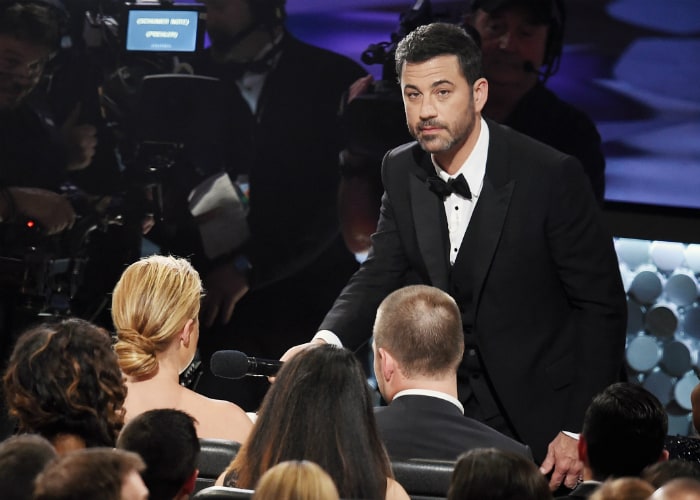 Plea for equality
"Please give transgender talent a chance. Give them auditions. Give them their story. Do that. I would not be unhappy were I the last cisgender male to play a female transgender on television. We have work to do." - Jeffrey Tambor, after winning his second consecutive Emmy for best actor in a comedy for Amazon's
Transparent
.
Butt naked
"Since you're good at keeping things safe, I have a job for you - my Twitter account. Put that in the vault, please! You all are over here using your skills to protect best voiceover in a French sitcom. Meanwhile, I'm butt naked on CNN." -
Saturday Night Live
star Leslie Jones, joking about the hack of her Twitter account and personal website that led to a leak of naked photos with the Emmy accountants from Ernst & Young.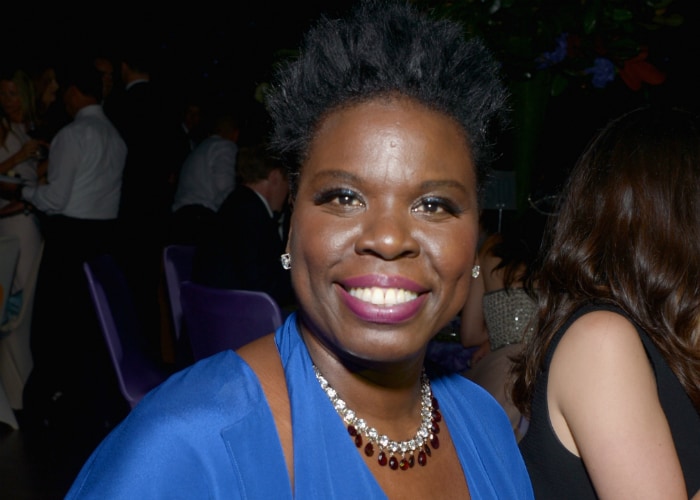 Inheritor to Hitler
"He is a complete dangerous monster and any time I can call out Trump for being an inheritor to Hitler, I will."- Jill Soloway, who won an Emmy for outstanding directing for a comedy series for
Transparent
, using strong words to describe the Republican White House hopeful.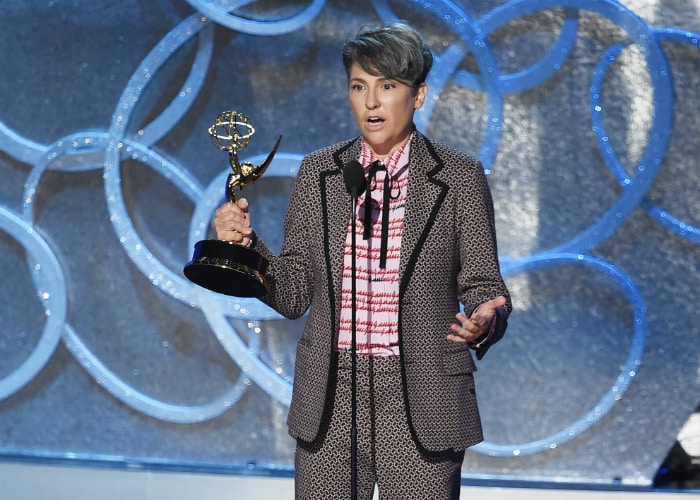 No-show
"When Maggie Smith hears she's nominated for an Emmy, she has the same reaction that the rest of us have when we get those 20 percent off Bed Bath and Beyond coupons: right in the garbage." Mr Kimmel calling out the British actress for never coming to the Emmys. Ms Smith went on to win the award for supporting actress in a drama for her role as the Dowager Countess on
Downton Abbey
.
Righting a wrong
"Playing a real person, you want to get it right for them. And the more I learned about Marcia Clark, who dedicated herself to righting an unconscionable wrong (...) I'm glad to be able to stand here today in front of everyone and tell you, I'm sorry." - Sarah Paulson, who won an Emmy for portraying Clark in
The People vs. O.J. Simpson: American Crime Story
, apologizing to the prosecutor who she brought to the gala for misjudging her.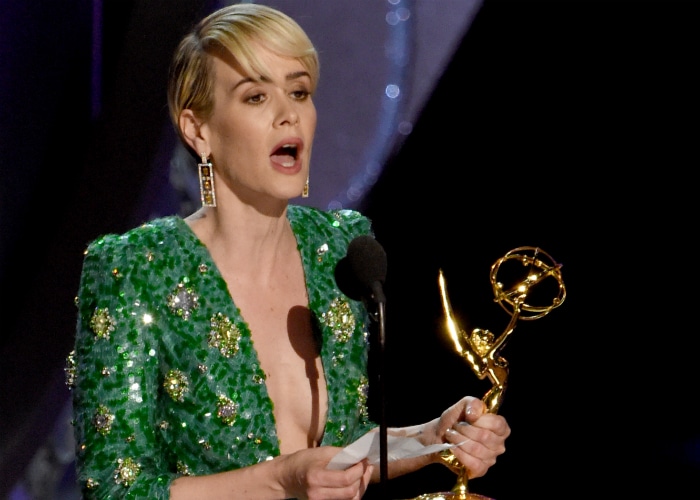 Prison watch party
"Wow. What a night for OJ so far, huh? I wonder if he's having a viewing party with the rest of the guys." - Mr Kimmel joking about the success of
The People vs OJ Simpson: American Crime Story
and the current home of the 69-year-old Simpson, who is in prison for a robbery and kidnapping incident in Las Vegas.
(Except for the headline, this story has not been edited by NDTV staff and is published from a syndicated feed.)