Koffee With Karan 5 Episode 4
kicked off with an energy level difficult to match, courtesy Ranbir Kapoor and Ranveer Singh. The Karan Johar guests have several things in common, and when asked about their rapport, Ranbir beat Ranveer to it and said: "We're not best friends. We're on the show together because you called us. I love his work. I love him as a person." Both Ranbir and Ranveer have been directed by Sanjay Leela Bhansali. Ranbir dated and split with actress Deepika Padukone, who is rumoured to be currently seeing Ranveer. Both Ranbir, 34, and Ranveer, 31, have been on the
Koffee
couch but separately - Ranbir twice and Ranveer once so far.
Stationed inside the show host's changing room, Ranbir and Ranveer were on a rampage spree when the episode began, leaving Karan Johar wonder where they are and what they are up to.
With @RanveerOfficial & #RanbirKapoor in the house, you're in for an absolute cracker of an episode! #KoffeeWithKaranpic.twitter.com/nQkvbK1Woj

? Star World (@StarWorldIndia) November 27, 2016
Having curated shoes from Karan's wardrobe, Ranveer and Ranbir threatened Karan to launch his own shoes at him if he enters the restricted zone of topics. "We are going to launch your shoes at you," quipped Ranveer. They also made a confession of sorts about why they love
Koffee
so much: "Where else do you get to say sh*t?"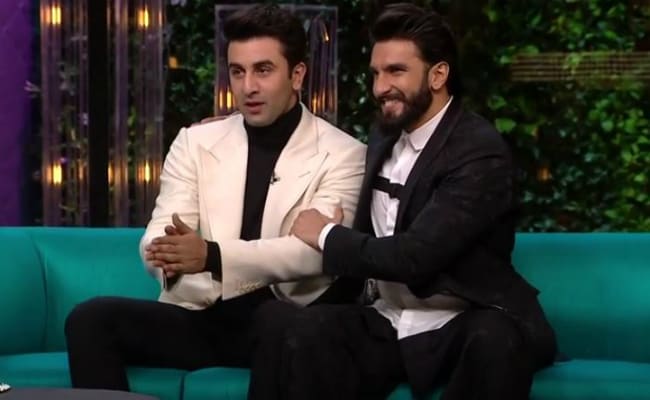 Ranbir also opened up about his films turning out to be box office duds and dealing with failure: "When your films don't work there is a dilemma. Are you doing it right? What are you doing wrong," he said. Ranbir was last seen in Karan Johar's
Ae Dil Hai Mushkil
. Ranveer, who is the star of hits like
Ram Leela
,
Dil Dhadakne Do
and
Bajirao Mastani
, said that Ranbir was the "barometer of good work" for him when he joined Bollywood. Ranbir appeared to be an admirer of Ranveer and said: "It makes me happy that somebody is out there and is doing this level of work. And it's unlimited. I'm scared that this guy has no limit. He can go anywhere."
Ranveer was asked about being compared to Ranbir, if ever, and his response was simple and curt: "Do I need to match up? Can the two of us just do good films? Take the industry forward. Do stellar work. Put us on the world map. Our films should be world class. He has it in him. Not just as an actor, as a director, as a filmmaker."
In a sudden recollection, Ranbir also mentioned Ranveer wanted to make a film titled
Project X
. When Karan was asked if he would like to produce it, he sneered and rolled his eyes saying: "Nobody wants to watch a two-hero film but you are doing one (pointing at Ranveer)." However, Karan wants to make a remake of
Sangam
with Ranbir, Ranveer and Deepika.
Ranveer is currently busy shooting for Mr Bhansali's
Padmavati
and described his experience of filming the period film as "all-consuming." Talking about his headspace, Ranbir said: "There is little bit of a relief after
Ae Dil Hai Mushkil
. Relief for six months till
Jagga Jasoos
comes out."
Ranveer and Ranbir also shared how they are often confused as the other and Ranveer earns blessings on behalf of a poised and dignified Ranbir Kapoor, as opposed to being his quirky self.
Karan introduced a new game involving an object of desire, represented by
Arjun Kapoor
, who was on the show only for the game. Ranbir and Ranveer were asked about being on dating site Tinder, kissing a friend's girlfriend and more. Do not miss our Ranbir's reaction when he was asked if he has drunk-dialled an ex.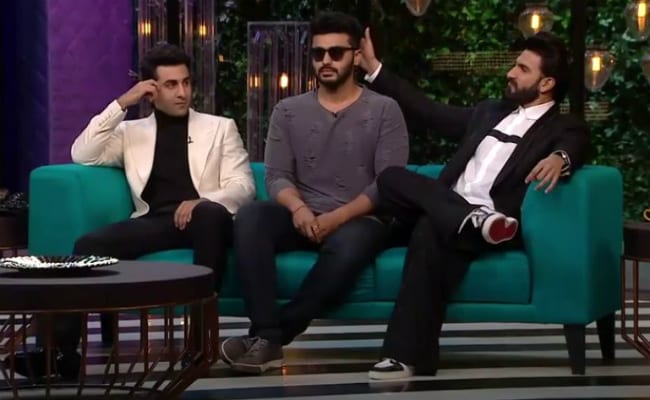 The duo also delivered a dynamite dance performance to
Katrina Kaif's song Chikni Chameli
and made several viral-worthy confessions. Sample these:
The dynamic duo on #KoffeeWithKaran! With #RanbirKapoor & @RanveerOfficial in the house, it's going to be an explosive episode. pic.twitter.com/dZwmqTd674

? Star World (@StarWorldIndia) November 20, 2016
Here are some of the
funny things
said by the Ranbir-Ranveer duo on the show:
Ranveer on Karan being lazy and Karan's last directed film Ae Dil Hai Mushkil:
"Karan only depends on talent like he did in
Ae Dil Hai Mushkil
"
Ae Dil Hai Mushkil
features an ensemble cast comprising Ranbir Kapoor, Aishwarya Rai Bachchan, Anushka Sharma and Fawad Khan along with Shah Rukh Khan in a special appearance.
Ranveer on Koffee With Karan Season 5 Episode 4:
"We have come together to save your show"
Ranbir on his relationship status:
"Being single is boring, lonely and sad. If you want space and all, you should join NASA"
Ranbir's conscience is always clear:
"My conscience is very clear because I have never used it"
Ranveer Singh was the winner of the Rapid Fire Round while Ranbir Kapoor made up for it in the Buzzer Round.
That might just be the hottest thing ever said on a Koffee Rapid Fire! Full marks to @RanveerOfficial! #KoffeeWithKaranpic.twitter.com/JqNrILpNU5

? Star World (@StarWorldIndia) November 27, 2016