This Priyanka Chopra and Tom Hiddleston thing
, having made its appearance at the Emmys, is now taking on a life of its own. A fledgling romance has been attributed to the pair after they were spotted holding hands and flirting at an after Emmys party and there might have been a development. Priyanka, 34, is of course very busy with the second season of her hit TV show
Quantico
- too busy, one imagines, to follow up after having exchanged phone numbers with Tom. But the mountain, so to speak, is coming to Mohammed because Tom, reports suggest, will be making a guest appearance on the show.
According to sources, the
Thor
star will be part of a potential love story crossover in
Quantico Season 2
, currently filming in New York.
In a tweet on Wednesday
, Priyanka revealed what to expect from the upcoming season of her show - dangerous enemies who are "really, really bad" and "plenty of hot romance and sizzling secrets."
I'm excited to show you what Alex has been up to! @quanticotv returns Sunday at 10|9c on ABC. #Quanticopic.twitter.com/jeles1xwCv

? PRIYANKA (@priyankachopra) September 20, 2016
Tom could be any - a dangerous enemy (he's had practice playing Loki) or a hot romance with a sizzling secret.
Which leads us to ask if the potential Priyanka-Tom binary that popped up at the Emmys is not, after all, an elaborate set-up like the reputed Hiddleswindle - Tom's suspect last romance with singer Taylor Swift.
Was this for real or a build-up to a
Quantico
plotline?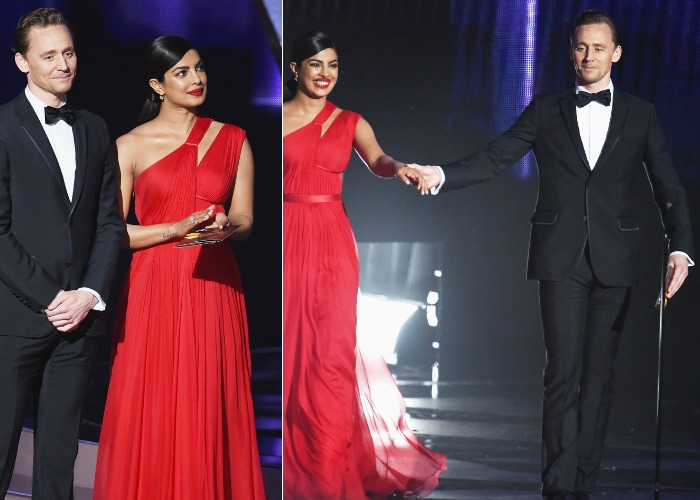 Here's how it began
.
At the 68th Annual Emmy Primetime Awards held in Los Angeles on September 18, Tom and Priyanka presented the Outstanding Directing for a Limited Series, Movie, or Dramatic Special award to Tom's
The Night Manager
director Susanne Bier. As they walked to the microphone, Tom twirled Priyanka,
a vision in a scarlet Jason Wu gown
.
is that the heaven? *-*@priyankachopra@twhiddleston <3#PriyankaChopra#TomHiddleston#Emmys2016pic.twitter.com/7jmM2SyDSZ

? the laughing coffin (@Loki_Bucky263) September 19, 2016
An eyewitness told
E!Online
that Priyanka and Tom were spotted getting cosy at an after party: "Tom had his arm around her and held her close. Afterwards, Tom and Priyanka talked closely and were holding hands at one point for a few moments. Priyanka fixed Tom's bow-tie and then the two kissed on both cheeks."
The source also revealed that Priyanka and Tom exchanged phone numbers before embracing.
"Priyanka and Tom said goodbye and she told him that she will see him later. They left the event about a minute after each other," the source added.
Priyanka Chopra's
Quantico
character Alex Parrish was an FBI trainee in the first season and has joined the CIA in the second, which airs starting September 26 in India.
Tom Hiddleston is currently working on
Ragnarok
, the third in the
Thor
films.