Since Priyanka Chopra made her debut on American television last week on ABC's new show,
Quantico
(and on October 3 in India on Star World) - she plays Alex Parrish, a young FBI recruit implicated in a terror attack -- her Twitter account has been flooded with applause. The actor, who won Miss India in 2000, going on to become one of Hindi film's most promising and well-paid actresses, is experiencing what it means to be newly famous all over again.
Although the show may have received mixed reviews, Chopra's performance is the talk of town. Variety magazine called her an "arresting lead"; The New York Times said she was "the strongest human asset on the show" and Vulture said "Chopra's a huge star overseas for a reason: She's very compelling on screen".
And then, came a surprise. On September 29, ABC made a blunder when it confused Chopra for another beauty queen from India in a promo advertising 'Nightline'. Yukta Mookhey, who was Miss World in 1999 was passed off as Chopra. Social media users jumped at the faux pas, and 'Nightline' issued an immediate apology.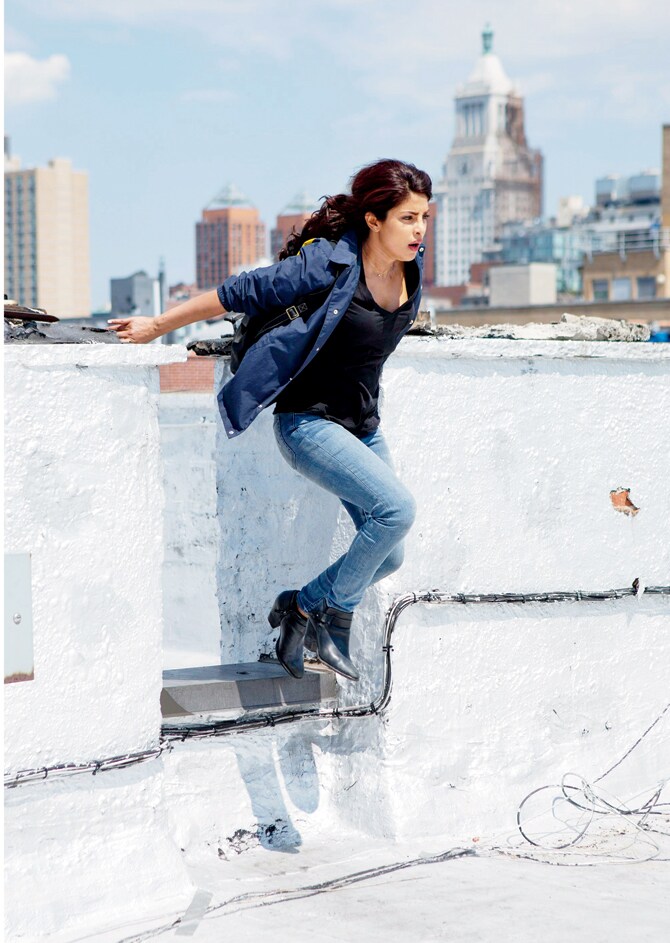 Chopra tweeted "Lol!"
It's not surprising. The actress, who was written off at the start of her career as too dark for Bollywood, is known for her gumption. She doesn't take herself too seriously, which makes taking risks that could turn into masterstrokes, easy. Just like upping and moving to Canada, with one leg firmly in Bollywood, has turned out.
She had met ABC's vice president of casting, Keli Lee, at a party in Los Angeles. Lee suggested they collaborate on a show around a "talent". Lee flew to India, watched the actress in her milieu, urging her to head to LA. Here, Chopra read 26 show pilots. "I was hesitant at first, because I was all settled here," she says over the phone from Montreal, "but it worked out well for everyone." (Also Read:
Priyanka Chopra Went on Jimmy Kimmel and Met the Real Jason Bourne
)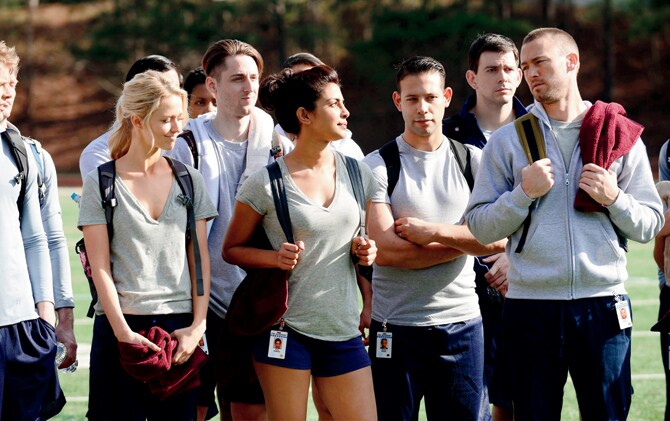 If the reception to
Quantico
is anything to go by, Chopra is around to stay. ABC hinted at her hosting a talk show, but she flips the idea, saying she prefers giving the interviews. Right now, she has her hands full handling the hype. Can we hope to see her in a sitcom like The Mindy Kaling Show? "Not right away. I want to focus on
Quantico
, and maybe a feature film," she says. Excerpts from the interview.
Heading West
I no longer wish to cap my creativity. I want to be known as a global artiste. I respect people who are comfortable in Bollywood, because so was I. I am still doing Bollywood, and I'm going to be back in India to promote
Bajirao Mastani
, but I am here to expand my creative horizon. I don't know where I may go next to do that! I am living in the skies right now.
Fear of stereotype
The New York Times called me the "strongest human asset" on the show. There is a lot of ammunition on the show, so being called that is awesome. It's testimony to the support I have received here. When you do something relatively new, you are bound to face road blocks, but I don't want to talk about those, or the [ethnic] stereotypes. I want to talk about success, the reviews!
Bollywood prepares you for everything
It isn't very different, acting here. The difference is between acting for television and film. In film, you shoot one scene in two days. On TV, you shoot nine a day. Otherwise, you are battling the same chaos. Assistant directors are shouting at actors to emerge from their trailers; directors are shouting wrap. It's exactly the same. And 13 years in the industry have served me well. One day, we were shooting an action scene, and running late. There hadn't been any time for rehearsals - the shoot was at 5 am. Since I have had my brush with action during
Don
and
Mary Kom
, I didn't need to rehearse, and I did it without a body double. We finished in three hours.
Bollywood's 'politics' vs that of the West
I am too new to this industry to understand any politicking that may go on. But if it's like the Indian film industry, it's going to be great. Have you seen the kind of support I have got back home? It's given me the strength to pull it off.
Now what?
It's all about
Quantico
right now. I trust my writers. They are the backbone of television. Yes, I might be looking at doing a movie here; I am working on it. [We suggest a Bond film]. Could you talk to the makers for me? [laughs]